Brand A-Z
Red Star (1 to 4 of 4)
---
--- The Red Star MX GT 4 Pack of wheels are made with proven urethane five-star technology so you know you are getting the best. They have a Glu-thane additive for superior grip as well as a Dura-thane additive for a better wear. The 74A Durometer is relatively...
--- The Red Star Hockey Rebel indoor roller hockey wheels are crafted with proven urethane 5-star technology and high-rebound urethane for a better grip and wear. Proven urethane five-star core technology, High rebound urethane for superior grip and wear,...
---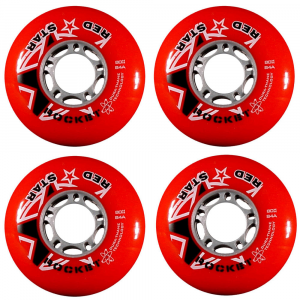 Red Star Red Rocket Wheels are constructed with a proven urethane five-star core technology and given an extra Dura-thane additive for supreme, lasting wear. Featuring a Glu-thane additive for excellent grip, the Red Star Red Rockets are a great recreational...
---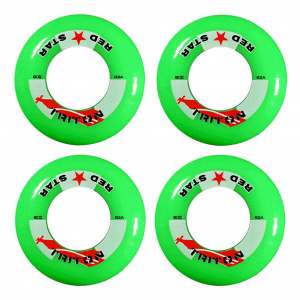 The Red Star Triton wheels give such great performance but come at a reasonable, affordable cost. Constructed with a proven urethane five-star core technology, the Red Star Triton wheels high rebound urethane gives the skater a superior grip and a lasting...
---
5-1/2-quart stainless-steel sauté pan; mirror-finish exterior with matte interior. Aluminum-encapsulated base for excellent conductivity and even heat distribution. Stay-cool, stainless-steel riveted handle with helper handle to ease lifting. Tight-fitting...
---
Red/tan plaid base fabric. Each corner features an appliqued 5-point star in navy/white ditsy star fabric. Scalloped edge with .5'' bias cut binding. Machine stitched. Designed in the USA, made in India.
---
Single fabric. Machine stitched. Small scale burgundy and tan checks. 5-point stars Appliqued along the bottom in Solid burgundy. Lined with White Cotton.
---
Enzyme washed, red fabric gives distressed appearance. Detailed with Native American cross and star pattern throughout. Straight edge with .5'' red binding. Reverses to same as front. Machine stitched, Machine quilted.
---
Used Book in Good Condition.
---