Bones Ceramic Skate Bearings
Bones Ceramics Labyrinth Bearings are simply the best. Not suited well for beginner skaters, professionals and intermediates alike swear by these bearings and why? These bearings are strong, fast, smooth and durable - everything you could ever ask from a bearing. The ceramic balls make them roll faster, stronger and are one of the lightest bearings on the market. They are also easy to clean. Each Labyrinth seal fits into a groove cut into the inner race without touching the walls or bottom of the groove, so that dirt and water must go through a Labyrinth or U shaped path to get to the inside of the bearing. The labyrinth seals are still removable for cleaning, but the skate time between cleanings is greatly increased. The Bones Bearing team of skaters who have tried these note that they are just as fast as ever, but are quieter, and stay clean longer. Bones Bearing factory testing confirms this. Made of 100% high purity silicon nitride ceramic with a removable high speed nylon ball cage, removable non-contact frictionless rubber shields and lubricated with low viscosity Bones speed cream. Highly polished Cerbec ceramic balls, Labyrinth, Removable Rubber Seals, Pre-Lubricated with Bones Speed Cream, Removable High Speed Nylon Ball Cage, Bones Skate Rated & Design Quality, Model Number: BOCE 7MM, Product ID: 210074, Model Year: 2014
---
Related Products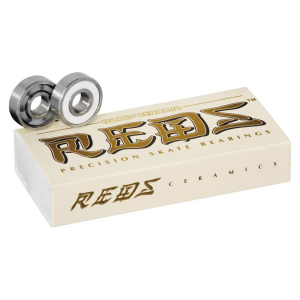 The story of Ceramic Super Redz is simple. Take the superior steels used in the Super Redz bearings and swap the steel balls for grade 5, silicone nitrade, hot isostatically pressed ceramic balls and you have Bones Ceramic Super Redz. These bearings are...
---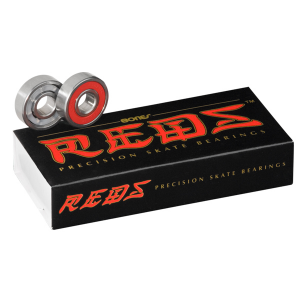 Bones Redz Skate Bearings, a precision bearing, feature an outstanding roll with steel ball bearings, mirror-like finishes and a removable nylon ball retainer. Model Year: 2014, Product ID: 210079, Model Number: CB 7MM
---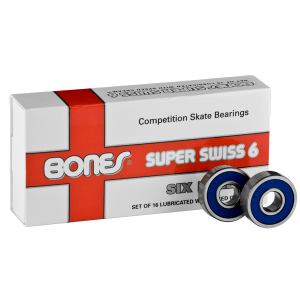 The Bones Super Swiss 6 Ball bearings design features six larger diameter balls instead of the seven balls used in most 608 bearings. The advantage of this design is higher speed, faster acceleration, greater strength and durability. These bearings feature...
---
Eight-pack of chromium skateboard wheel bearings with four bearing spacers, instructions, and a sticker. Precision-grade Swiss design and manufacturing acclaimed for 25 years. Nylon ball retainers and Bones Speed Cream lubricant for a sustained ride....
---
The cerbec ceramic balls are much lighter, harder, stronger, waterproof, and longer lasting than the finest steel balls. High speed nylon ball retainer for greater strength and speed. Package Included: 8x 608 8mm Reds bearing. Please check for the details...
---
Qube Ceramic Skate Bearings. Available 7mm or 8mm. Best Ceramic Bearing Value on the market. Set of 16 bearings.
---
Unique - This one of a kind handmade T shirt is sure to get the message out and will give lasting enjoyment all year round. Stand out from the crowd with our unique design produced by Lepni.Me Graphics Studio, shirts that allow you to dress with creativity!....
---