Bones Super Redz Ceramic Skate Bearings
The story of Ceramic Super Redz is simple. Take the superior steels used in the Super Redz bearings and swap the steel balls for grade 5, silicone nitrade, hot isostatically pressed ceramic balls and you have Bones Ceramic Super Redz. These bearings are lighter and provide faster acceleration because the balls weight much less. They create less friction and are thus faster than Super Redz, with or without lubricant! When you get dirt into your Ceramic Super Redz, the ceramic balls will not rust, further lengthening their life. Ceramic Super Redz use a bone colored shield with laser-engraved outer races for identification. These bearings features include higher quality steel races, a superior surface finish, high speed nylon ball retainers for greater strength and speed, single non-contact removable rubber shields for easy cleaning and less friction and are pre-lubricated with Bones Speed Cream racing lubricant. Features grade 5, silicone nitride, hot isostatically pressed ceramic, Higher quality steel races and a superior surface finish, Single non-contact removable rubber shield for easy cleaning and less friction, High speed nylon ball retainer for greater strength and speed, Pre-lubricated with Speed Cream racing lubricant, Model Year: 2014, Product ID: 210084, Model Number: BOSRC 7MM
---
Related Products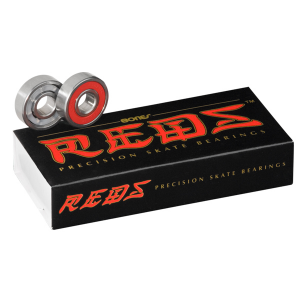 Bones Redz Skate Bearings, a precision bearing, feature an outstanding roll with steel ball bearings, mirror-like finishes and a removable nylon ball retainer. Model Year: 2014, Product ID: 210079, Model Number: CB 7MM
---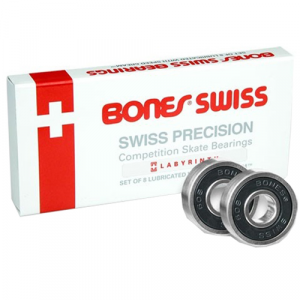 Bones Ceramics Labyrinth Bearings are simply the best. Not suited well for beginner skaters, professionals and intermediates alike swear by these bearings and why? These bearings are strong, fast, smooth and durable - everything you could ever ask from...
---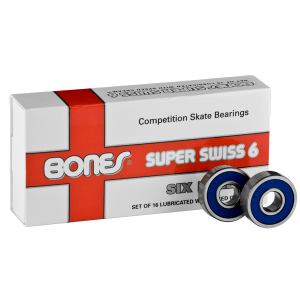 The Bones Super Swiss 6 Ball bearings design features six larger diameter balls instead of the seven balls used in most 608 bearings. The advantage of this design is higher speed, faster acceleration, greater strength and durability. These bearings feature...
---
Specification: Injection Material: White POM Bearing Material: High Carbon Steel Inner diameter: 5 (mm) Outside diameter: 23 (mm) Thickness: 7 (mm) Quantity: 10pcs.
---
Description: Material:Titanium+Stainless Steel Type:ball bearing Structure:deep groove Seal type:2RS Precision:ABEC-5 Inner Diameter:8mm Outer Diameter:22mm Width:7mm. Feature: Deep groove ball bearing 2RS double sided shield sealing design,protect the...
---
Specification: Model F623ZZ Material Bearing steel Size 3x10x4mm Outer Diameter 10mm Inner Diameter 3mm Thickness 4mm Quantity 10pcs. Features: Easy to install and replace. Less friction and higher speed. Durable and insulation. Package Included: 10 x...
---