Bones Super Swiss 6 Ball Skate Bearings
The Bones Super Swiss 6 Ball bearings design features six larger diameter balls instead of the seven balls used in most 608 bearings. The advantage of this design is higher speed, faster acceleration, greater strength and durability. These bearings feature a single, non-contact, removable rubber shield that allows for easy cleaning and less friction. They also come equipped with high speed ball retainers for greater strength and speed, plus come pre-lubricated with Bones Speed Cream racing lubricant. Model Year: 2014, Product ID: 210078, Model Number: SS6
---
Related Products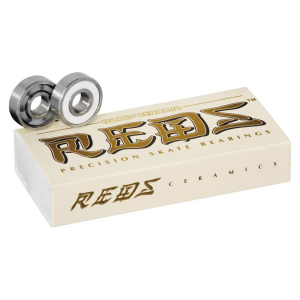 The story of Ceramic Super Redz is simple. Take the superior steels used in the Super Redz bearings and swap the steel balls for grade 5, silicone nitrade, hot isostatically pressed ceramic balls and you have Bones Ceramic Super Redz. These bearings are...
---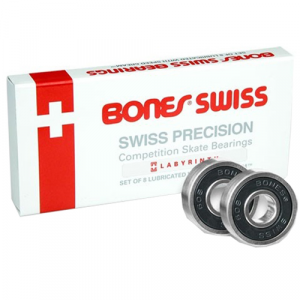 Bones Ceramics Labyrinth Bearings are simply the best. Not suited well for beginner skaters, professionals and intermediates alike swear by these bearings and why? These bearings are strong, fast, smooth and durable - everything you could ever ask from...
---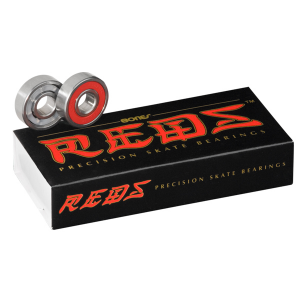 Bones Redz Skate Bearings, a precision bearing, feature an outstanding roll with steel ball bearings, mirror-like finishes and a removable nylon ball retainer. Model Year: 2014, Product ID: 210079, Model Number: CB 7MM
---
Unique bearing design with six larger balls of for increased speed, faster acceleration, and greater strength. Single, non-contact, removable rubber shield for easy cleaning and less friction; pre-lubricated with Speed Cream. High speed nylon ball retainer...
---
8mm only.. 16-pack, for one pair of roller or inline skates. From Powell-Bones, the leader in roller skate bearings. Upgrade your skates with a faster and smoother roll..
---
---